So this is something that I just notice recently.. if you dont know and you are a pupe user then you must be shock.. or maybe not.. but i was shocked... anyways read more!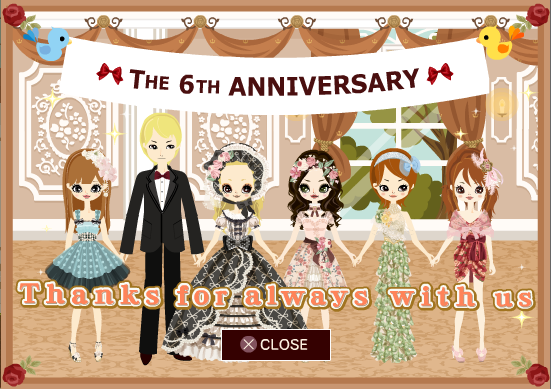 I love their funny english. Like when they said Koala = Koara hahaha
remember their Anniversay event? They sell so many beautiful items and I almost broke that time -.-'
they also sell this beautiful wigs! I bought the blonde one as you can see \m/ bloonde dip in chocolate xD
on March 1st 2013 this wig is 210 jewels
but I bought the wig on february and it still 189 jewels
OMG THEY RAISE the price..
21 jewels, I can get good dress in Jewel auction. yes i love to bid everyday.
So I guess if you love something you should just buy right away or you will have to pay more..
--------------------------------------------------------------------------
Move on to my POUPEE SUTEKI RANGKING
I am very pround of my Poupee!! SHINCHI!! hahaha
I got many suteki rangking in items I post and also suteki rangking in pupe collection
God.. I am so happy!!
Even though I never be in top 3 but its about time.. hahahaha
NO 6!! So I dress her to be a maid.. that was the plan until.. my boy added umbrella.. and many more. I dont know what theme should I call her but oh well she got 1009 suteki so I should compliment him for added more stuff in pupe but I didnt.
NO. 10!! omggggg i love love this orange dress!! the theme was princess.. but then.. again.. my boy added more and more and more items!! but 10th place? shouldnt complain. Beside she's prettier I think xD
no.4!! ALMOSTTTTTTTTT!! I wore Korean tradisional dress~ very beautiful and love it! i got 4th place with only 641 suteki.. I guess not many people play pupe as it used to.. as you can see before I got 700 suteki but I just got 10th place. now.. with 500 suteki you can be in 10 top!!
How can I get this many suteki??
- First again and again you need many pupe friends.. but but what about some pupe who only has few friends but they still could get alot sutekis and be in pupe rangking? so I am thinking you should be a japanese becuase they treat japanese more special *just my tought from what I see* but also if you are new pupe who just sign up and else, you will get many suteki because you will be shown is Today's Poupee collection~
- Second: SAVE! keep saving.. thats what I am doing. He help me, he always help me with pupe xD pupe is my happiness. so keep save save save pupe and you will get more suteki as long as you do the first step.
So sometimes you will be shown in 'Today's pupe collection" thats your lucky day since you will get more suteki than your usual day xD
So thats what I'm doing. ALOT of hard work but I am happy.
Dont ask me how other pupe get many suteki. If I know easier way I will do and share it hahaha
Happy play Poupee and see you in next post~